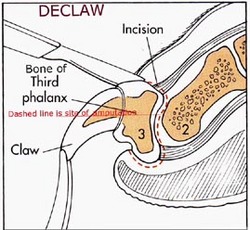 Onychectomy, or surgical declawing, consists of amputation of the first bone of all of the digits on the front feet, which includes the nail. A scalpel blade is used to cut the skin over the joint, sever the ligaments holding the joint together, and then carefully cut between the bones of the joint to remove the intact bone and nail all in one piece. It is very important that the entire bone be removed, as any bone left behind could result in nail regrowth.
A tourniquet is used around the leg during surgery to prevent bleeding. After surgery, a pressure bandage is placed on the foot to apply constant pressure to the wound, and the tourniquet is released. Bandaging is removed the day after surgery.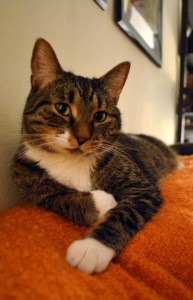 There is no doubt that declawing is a painful procedure, and that these pets will experience a greater degree of discomfort after this type of surgery than with a spay or neuter for example. It is therefore imperative that these patients receive several different modes and varieties of analgesia (pain control) before, during and after their surgery.  Although we do everything we can to make these patients comfortable, declawing is done only as a last resort, when all other options have been exhausted.  
Our patients are admitted the night before surgery to have a narcotic pain patch placed over a small shaved spot on the side of their chest. This patch slowly releases a narcotic analgesic (pain medication) into the body over the next three to four days. It takes several hours before blood levels become high enough to prevent pain, which is why we place the patch the night before surgery.
Before surgery, patients are tranquilized with a number of different drugs in combination, some of which calm the patient, and some which provide very good analgesia. These different drugs work via different physiological mechanisms in both the spinal cord and the brain to inhibit and prevent the sensation of pain, both during and after the surgical procedure.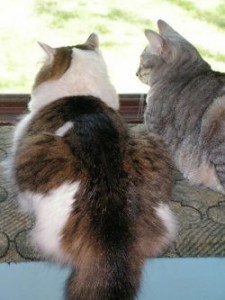 With this pre-emptive analgesia (analgesia given before the patient is exposed to painful sensations), we are able to control pain much more effectively than if we wait and give the drugs after the surgery is over and the patient is waking up. We can also reduce the total amount of each anaesthetic drug used during the procedure by utilizing these drugs in combination, resulting in less side-effects and a smoother anaesthetic induction and recovery. This is called balanced anaesthesia.
All declaw surgeries are placed on intravenous fluids, and receive a constant rate infusion (CRI) of analgesic drugs during and after the procedure until the next day. A peripheral nerve block with a short and long acting local anaesthetic effectively numbs the paws and all the toes. Injectable anti-inflammatory drugs are given after the procedure is over, which provide analgesia for a full 24 hours. When our patients are discharged two days after the surgery, the narcotic patch is removed, and they are prescribed an oral medication for home that they take for as long as needed to control any remaining discomfort that they might have.
As you can see, Dr. Gignac takes pain control and the comfort of his patients very seriously. With the use of narcotic patches, various injectible analgesics, constant-rate analgesic infusions, local anaesthetic blocks, post-operative anti-inflammatory injections, and oral pain medication to go home with (not to mention good surgical technique), we feel that our declawed cats are kept as comfortable as possible.
Of course, if the problem of scratching on furniture and household items could be avoided in the first place, then declawing would not even be an option to consider. This is always the goal to which we strive. If you need any help in trying to prevent your cat from scratching, there are numerous online resources and products available.  Please contact us if you would like more information.