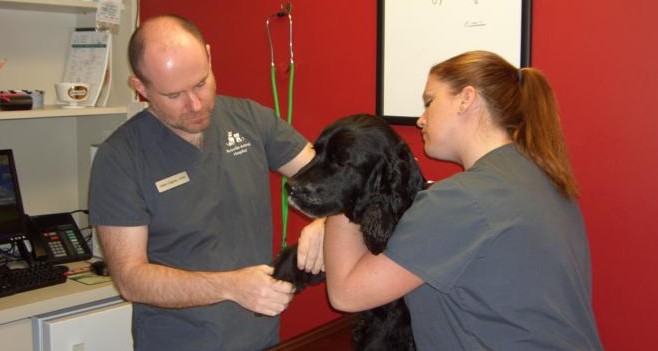 A detailed history and a thorough physical examination is essential when your pet is ill. We will examine your pet's various body systems, paying particular attention to those systems that may be causing your pet's abnormal signs. Sometimes, more detailed and specific examinations, such as neurological or ophthalmic exams will need to be performed, depending on your pet's circumstances.
Diagnostic testing may be necessary to rule out certain problems that could be causing your pet's illness. Bloodwork, urine testing, radiography (Xrays), ultrasound, endoscopy, or exploratory surgery are sometimes necessary to correctly diagnose a problem.
Sometimes, we will need to treat a pet supportively (for example with hospitalization and intravenous fluids) until we can get a definite diagnosis. Often, we will need to proceed with additional, more specific testing once the initial diagnostic test results have been obtained.
Occasionally, more than one option for how to proceed with your pet's diagnostic and treatment plan may exist. We will be able to discuss these options with you, and help you to understand the pros and cons of each approach, so that together, we may come to the best decision for your pet.
We will always recommend what we feel is best for your pet. Our primary interest is your pet's well-being, and we treat all of our patients the same way we would treat our very own pet.
There is no doubt that good medical care can be expensive, and we will gladly provide you with an estimate based on your pet's situation. Unfortunately, we cannot always foresee what may happen, and will sometimes need to amend your pet's diagnostic and treatment plan as time goes on.
For these reasons, we recommend pet health insurance, which can cover the costs associated with these unforeseen situations. It is stressful enough when your pet is ill. With insurance, at least the stress of worrying about money is alleviated, allowing us to concentrate on what is important — making your pet well. Please contact our staff for more information on purchasing pet health insurance for your pet.