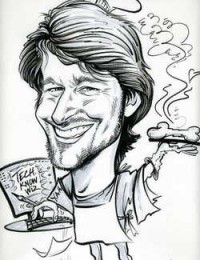 It has been our pleasure to have Chris with us since October 2003. In the beginning, Chris was brand new to the veterinary profession, having a background in the financial services industry and IT (computer stuff). He is a keen learner, and is now a veritable fount of veterinary knowledge, from Anal sacs to Zoonotic diseases. He has completed a number of online and traditional continuing education seminars to further enhance his skills.
If you have a problem to be solved, then Chris is the man to come to. As our afternoon and weekend receptionist, he is adept at providing over-and-above-the-call-of-duty service to our clients. He loves getting to know all of our clients and their pets, and takes pride in his ability to provide friendly, efficient service. He is somewhat of a computer whiz, and provides all of our computer network administration and maintenance needs.
Chris loves travel, and has a passion for cooking.  He even does private catering in his free time.  His is quite the anglophile, and would love to discuss the latest gossip about Charles and Camilla with anyone who cares to listen.  Chris shares his apartment with his three feline roommates, Mouse, Marilyn, and Mame.