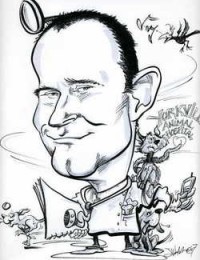 Dr. Gignac graduated from the Ontario Veterinary College, University of Guelph in 1993. Modesty prevents him from mentioning that he graduated at the top of his class, and was awarded the Andrew W. Smith memorial medal — a prize awarded annually to the graduating student demonstrating the most consistent overall academic excellence and clinical proficiency over the entire four years of veterinary school.
After graduation, Dr. Gignac worked in Brampton for one year (which was all he could stand), before moving to Toronto. For the next eight years, he practiced at Doncaster Animal Clinic, a clinic north of the city offering routine veterinary care as well as referrals in veterinary dermatology and animal behaviour.
In November 2001, Dr. Gignac began as an associate veterinarian at Yorkville Animal Hospital (which was known as The Animal Clinic II at the time), and shortly thereafter, became the owner and sole veterinarian of the hospital. Dr. Gignac greatly enjoys taking the time to get to know each and every one of his patients and clients on a friendly, first name basis.
Medicine is constantly changing and improving, and Dr. Gignac believes strongly in continual learning. He regularly attends continuing education lectures, seminars, and conferences to keep his skills and knowledge up to date, and provides regular continuing educational opportunities for his staff as well. He is a member of the College of Veterinarians of Ontario, the Ontario Veterinary Medical Association, and the American Veterinary Dental Society.
Allen is originally from Windsor, but is now a downtown Toronto kind of guy, through and through. He grew up in a household full of pets — dogs, cats, fish, hamsters, rabbits, and a horse (who didn't live in the house). His family was active in wildlife rehabilitation as well, so it was not uncommon to find little raccoons, squirrels, skunks, and birds chattering away in his basement.  He is now the proud daddy of the cutest kitty in the world — a chocolate Exotic Shorthair named Biner. (That's pronounced Been-er, as in carabiner.  It's a rock climbing thing.)
When not working, Allen enjoys eating his way through all of Toronto's neighbourhoods.  He enjoys skiing, and is not too bad at it, if he does say so himself. In the last several years, he has begun rock climbing, which he is gradually learning not to suck at.  It is thrilling, challenging, and tons 'o fun.  He highly recommends it. He is also an accomplished pianist, organist, chorister and choir director, and has been since he was a wee little thing. In fact, he paid his way through vet school as Music Director and Organist of Knox Presbyterian Church in Guelph. He is a multi-talented renaissance kind of guy, and is universally beloved by all.